Position your business for growth with branding and messaging that resonates with your ideal buyers.  
Our Messaging Traction Framework™ ensures that your brand or product narrative is unique, concise, differentiated, and most importantly – authentic. We help brands move from a What-focused story to a So What story that connects to buyers' needs, pains and values.
Ongoing content services – delivered through our ally network – help extend your team's production capacity, so your sales and marketing programs are never short on assets that drive engagement and results.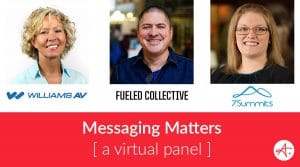 Brand & Messaging
There are any number of reasons that a company may revisit its brand and messaging approach, including: Changes to the business strategy, market focus, product or services mix, buyer demographics, leadership, and merger / acquisition activity. Whatever the motivation, the process of reshaping the brand narrative and supporting messaging can
Read More »
---
Ready to connect with us?
Fill out this simple form and we'll be back in touch with you shortly!