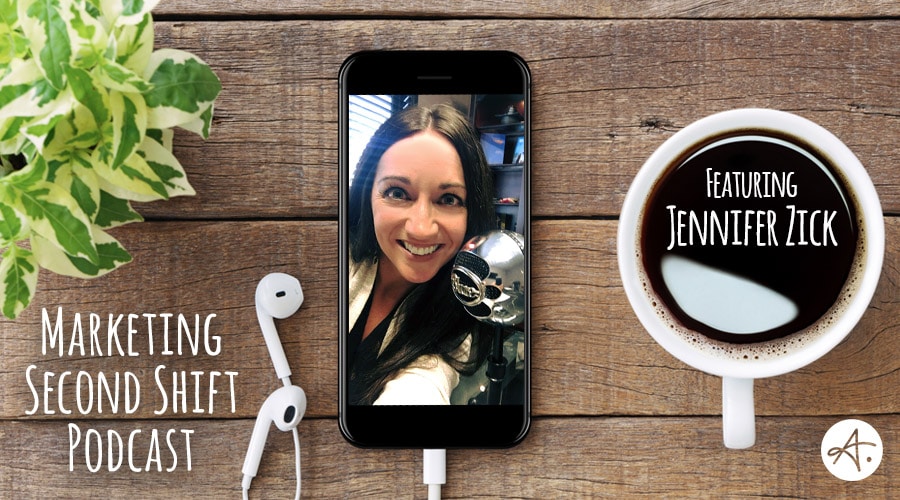 I recently had the privilege of being featured on the Marketing Second Shift podcast. Chaunce Stanton, CEO Co-Founder of Chronicals Digital – and producer of the podcast – covered a huge range of topics with me, including: EOS / Traction, Marketing Automation, Sales, Work-Life Balance (or lack thereof), and my love of family, yoga, and trips up north. Trust me…it all fits together in the Authentic Brand story. 🙂  These excerpts from my interview with Chaunce are republished here with his permission. 
01: Get to know Jennifer Zick
Jennifer talks about what makes her tick, how she unwinds, and the power of yoga.
---
02: Work-Life Balance?
Jennifer discusses her recent blog post about overcoming the pressures of the "work-life balance" mindset.
---
03: What Is EOS?
Jennifer has been using the Entrepreneurial Operating System (aka "Traction") methodology for years. Now her company (Authentic Brand) helps EOS businesses plan and execute marketing.
---
04: What Does Authentic Brand Do?
Jennifer goes beyond the elevator pitch to tell us about why she founded Authentic Brand and how the company helps clients.
---
 05: Why Unique Selling Propositions Fall Short
Your business "uniques" are a good place to start, but Jennifer helps companies go further.
---
 06: Get With the Program!
Which two industries does Jennifer think have a hard time adapting to the new realities of sales and marketing?
---
 07: Why Jennifer Zick Cares About Your Sales Team
You'll often hear Jennifer discuss sales strategies and pulling in the sales team. I thought she was a marketer! What's going on here?
---
 08: Nothing is Automatic About Marketing Automation
Jennifer discusses the realities of implementing an inbound marketing strategy. She says it's more than just flipping on the lead-generation switch!
For more on this topic, see the following Authentic Brand blog posts: Everything Marketing Automation, The Hard Truth About Marketing Automation, The Marketing Automation Disconnect.
Share This Post
Jennifer Zick is the Founder and CEO of Authentic Brand, a Minneapolis-based marketing consultancy that helps growing businesses gain marketing traction through fractional marketing leadership and messaging strategy.
Latest posts by Jennifer Zick (see all)