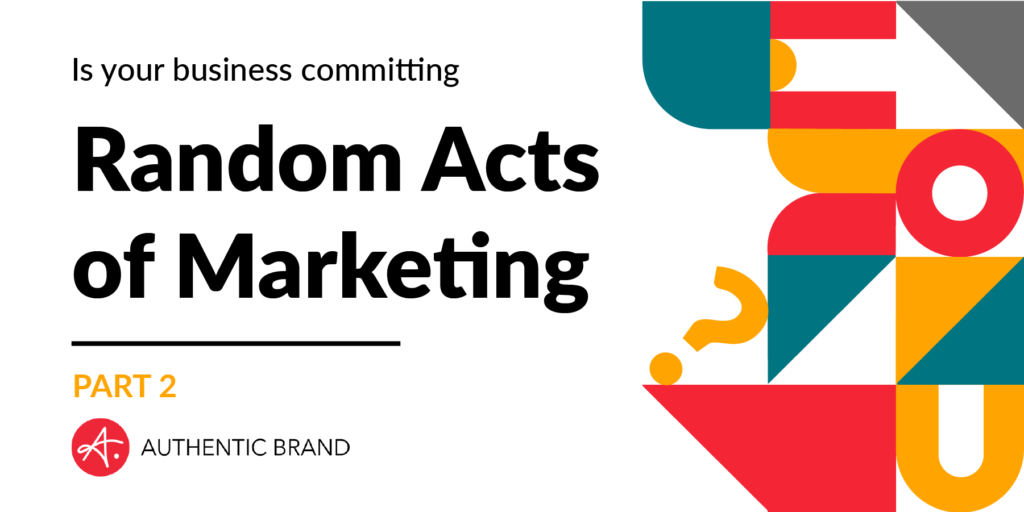 If you haven't read part one of our random acts of marketing series, we encourage you to start there!
Tired of spraying your marketing budget across numerous tactics, channels, and audiences and hoping at least one of them will work? You're not alone. We call this spray-and-pray approach, "random acts of marketing."
Random acts of marketing occur when growing businesses lack strategic marketing expertise. Rather than activating strategic, sales-aligned programs that drive revenue, these businesses activate marketing on a reactive, tactical, "shiny object" basis or with short-term, experimental bursts.
Random acts of marketing cause frustration for staff and agency partners. These scattered tactics also burn through resources without building meaningful brand value or delivering consistent revenue returns. A strategic plan and experienced leadership can help businesses overcome these random acts of marketing to build a foundation for long-term success.
Telltale signs of random acts of marketing (signs 6-10)
In part one of this series, we shared the first five of 15 signs you might be committing random acts of marketing. We uncovered these signs through hundreds of conversations we've had with business executives about their most pressing growth challenges. In this post, we share the next five signs that suggest it might be time for you to invest in a more strategic marketing approach.
6. There's no formal feedback loop and collaboration between sales and marketing (or, in a product company, between sales, marketing, and product).
When your business was in its early stages, your teams were likely small, making it easy for everyone to know everything that was happening. You probably didn't have formal feedback loops in place because they weren't necessary; communication occurred naturally.
But as your company grew, you might have noticed that communication started to break down. This communication breakdown can cause a disconnect between what your sales team experiences in the field, what the product team sees or hears from customers, and what marketing spends their time addressing.
Marketers might create content that doesn't match customer needs, leaving sales or product frustrated that they're not getting what they need. Marketing efforts feel disjointed, scattered, and ineffective. At this point in your growth, you need structured, process-driven feedback loops. When sales, product, and marketing teams are communicating and aligned, marketing can better support sales — and vice versa.
7. Marketing is tactical, activity-driven, and approached with a short-term mindset.
Tactic and activity-driven marketing is the clearest sign that your company is committing random acts of marketing. Many times this happens because, in founder-led or sales-driven companies, marketing's role is to take requests from executives and sales leaders to create whatever they need right now. Your marketers (whether they're employees, contractors, or agencies) are always scrambling to do whatever the founder or sales leader determines they need.
If this sounds like your business, you likely lack a forward-looking, overarching marketing strategy. Without this, your marketing activities lack direction and alignment to your business objectives. An experienced marketing leader can help you develop a strategy to support growth goals and map out the right short-term sales activation activities and long-term brand building activities needed to hit those goals. Both types of activities support sales, but your investment in your brand becomes much more valuable over time because it allows you to increase your prices, build brand preference, and scale. (See "Marketing Works in Two Ways" graph.)
Source: The B2B Institute, LinkedIn

8. Marketing is reactive, driven by shiny objects and flavors of the day.
As your business looked to find its footing in its early days, it likely pivoted regularly and frequently to accommodate market and product changes. This constant change may have led to reactive marketing efforts, typically driven by the shiny marketing object that captured the founder, CEO, or sales leader's attention that week. But, at some point, your business must commit itself to a specific direction to establish itself in the market. During this growth phase, marketing efforts must be planned and proactive to align with the business's objectives.
Enabling marketing to support business objectives means giving them a seat at the executive table. When you don't elevate marketing as an executive peer, they don't have the authority to push back on requests from leadership and sales that might take the company strategically off course. They'll always be reactive order-takers that can't support the business's growth objectives strategically and effectively. A strategic marketing leader can help you create a strategy aligned with business objectives and test, iterate, and refine the activities to best support your growth.
9. Marketing seems to be in a constant series of 30- or 90-day experiments, and you never know if they're successful or not.
Most marketing programs — especially in a B2B environment — require one to two years to fully measure success. Making short-burst investments in new tools, campaigns, or agency relationships without letting them run their course doesn't give you enough time to prove their potential impact. Instead of using marketing to build incremental gains, you suffer losses.
Strategic marketing investment requires a long-term mindset paired with regular measurement and iteration along the way. Experienced marketers know how to navigate pressure for an immediate payoff from investors, board members, and impatient executives. They can help your business stay the course long enough to measure a program's impact on revenue and sales. Without a strategic leader, companies often make knee jerk reactions and divest in programs that may have had great potential, but that barely had the opportunity to see the light of day.
10. Your marketing is exactly the same as it was last year, two years ago, or five years ago.
It's not enough to simply rinse-and-repeat your marketing plan each year with a few small modifications. Marketing trends, techniques, and technologies are evolving at warp speeds. If you don't evolve alongside them, you miss out on opportunities to engage your audiences in new and innovative ways.
Strategic marketing also requires you to adjust your plan and iterate based on insights you uncover throughout the year. It encourages you to listen to the market and always be ready to innovate, pivot, invest, or divest based on findings. (We help businesses do this through our Marketing Traction™ Methodology.) It's crucial to not only think creatively about your budget and plan each year but to keep that creativity alive throughout the year to evolve it with the market. Never before was the need to create a flexible marketing plan more apparent than it was in 2020 when, almost overnight, businesses scrapped their plans entirely.
Establish accountability and eliminate random acts of marketing
Putting experienced marketing leadership in place at your business is the first step to overcoming random acts of marketing. But that leader alone cannot solve all of your challenges. They need to build a strong program and enact a process across your organization that's easy to follow and align to.
At Authentic Brand, Marketing Traction™ is our proprietary methodology that our Fractional CMOs implement with our clients. It relies on simple tools and a structured process to help companies establish accountability and focus and eliminate random acts of marketing. Combined, our Marketers and Methodology enables businesses like yours to achieve next-level results.
In parts one and two of this series, we've shared 10/15 of the telltale signs your business might be committing random acts of marketing. Ready for the final five signs? Check out our final post in this series. Get the full guide here.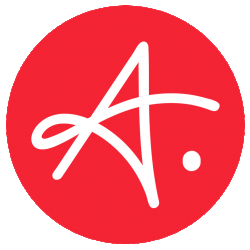 Latest posts by Authentic Brand
(see all)