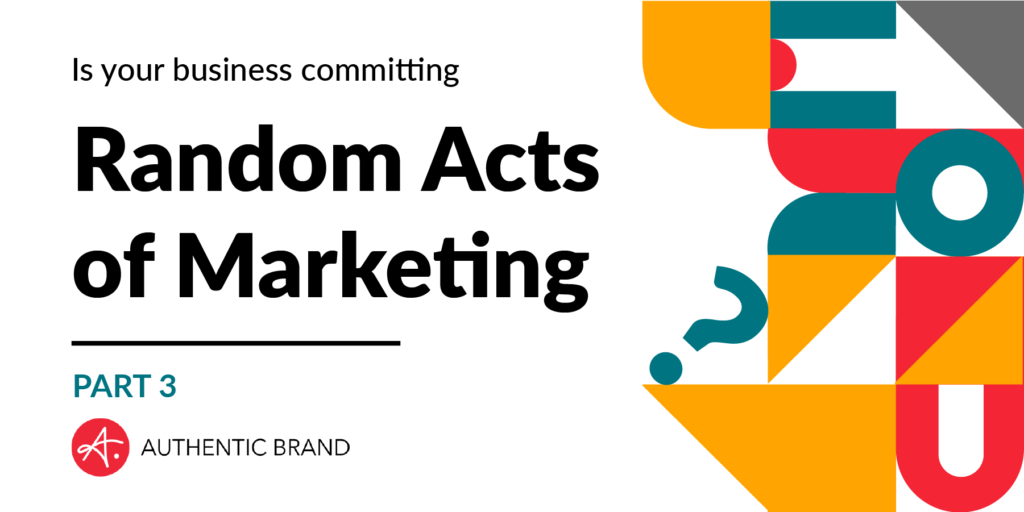 If you haven't read part one and part two of our random acts of marketing series, we encourage you to start there!
If you've been following us here for a while and reading this series, you know by now what we mean by "random acts of marketing." If you're getting up to speed, here's a quick definition:
Random acts of marketing: When growing businesses activate marketing on a reactive, tactical, "shiny object" basis or with short-term, experimental bursts. Ultimately, random acts of marketing burn through resources without building meaningful brand value or delivering consistent revenue returns.
Random acts of marketing are common, particularly for sales-driven organizations working to achieve next-level growth. Leaders in these businesses might know they need marketing, but they're unsure how best to structure or measure its effectiveness. Not knowing how best to proceed, they often test out one tactic, channel, or message after another, hoping at least one of them works. Random acts of marketing are rarely, if ever, an effective approach.
Telltale signs of random acts of marketing (signs 11-15)
In part one and part two of this series, we explained everything from why it's crucial to have the right strategic leader in place, a defined budget you're confident in, and a marketing leader at the executive table to ensure all initiatives ladder to business objectives.
This post highlights the final five random acts of marketing to watch for in your organization. Businesses committing these random acts benefit from considering what steps they can take today to build a more strategic, sales-aligned marketing organization. You can get access to the full guide here.
11. You're doing exactly what your competitors are doing.
If you look to your competitors to inform your marketing strategy, you operate on the assumption that 1) their growth plans are the same as yours and 2) they're doing things the right way. In reality, just because your competitor prioritizes a particular marketing message, campaign, or tactic does not mean it's what your business should prioritize. Healthy growth for their business might mean something different than healthy growth for your business. For example, that competitor might be looking to scale rapidly toward an acquisition while you want to build a family business you can live on for generations. Different goals require different strategies.
Focusing too much on competitors can also cause you to miss out on innovative opportunities that support your business's growth. Plus, when you show up in the same way as your competitors, it does little to differentiate you from them. It's important to be aware of who your competitors are, but there's danger in paying so close of attention to them that you start to resemble them.
12. Marketing is only focused on the top of the funnel (driving activities) and not focused on things like customer retention.
It's a costly mistake to rely on marketing simply to generate new leads. There's not a single point in the customer's journey — especially in today's digital world — when marketing doesn't play a critical role in driving growth. If your business lacks a strategy for nurturing, retaining, and expanding current customer accounts, it's missing out on opportunities to increase revenue more readily, through relationships where trust is already established. After all, it costs five to 25 times more to acquire a new customer than to retain an existing one.
Strategic marketing can play a leading role in creating new revenue opportunities across the entire customer lifecycle. Not only does this attention from marketing deepen the revenue value of the customer, but it also improves their experience with your brand. When your customers have positive experiences, they're more likely to advocate for your business, creating even more revenue opportunities.
13. In general, your agency and freelance partners don't seem productive, successful, and/or aligned.
Determining how best to resource your marketing team is challenging without a strategic marketing leader. You might not know if you need a digital vs. PR vs. content vs. creative agency or freelancer to support your needs. To make things more complicated, agencies may say they do many things well when, in reality, they excel at one or two core offerings. This lack of clarity puts pressure on non-marketing executives to decide what the agency is good at and whether the services they're selling to them are actually what they need.
Add in multiple agencies and freelance partners all working on separate projects, and you can quickly have disconnected and unproductive marketing efforts. Experienced marketing leaders know how to navigate and manage these relationships, providing feedback that aligns all partners with the objectives. This leader can help you maximize your external partner investments by deciding where to focus your efforts, which partners should help you execute, where, when, and how.
14. You have no central source of truth for relationship management.
If you've avoided implementing a CRM to focus on your core business, product, or service, you're setting yourself up for big future challenges. While CRM implementation can sometimes feel like an unnecessary distraction, without one, you can easily lose valuable intel acquired by your business over time.
One of the first and most foundational elements to strategic marketing is to have a strong CRM capability to ensure you track, retain, and manage customer information and activities. Your CRM provides valuable business intelligence and insights that can guide your strategy. Without a CRM, all you have is institutional knowledge from the people who have been at the company for a long time (hopefully, they don't leave!). This institutional knowledge provides you with enough information to form assumptions and hypotheses but doesn't give you the hard data necessary to measure your marketing efforts and outcomes.
15. You measure engagement metrics or the number of leads only.
If you or your agency partners count new lead creation as the ultimate metric for marketing success, it's time to look for metrics that better represent customer conversion and retention. Too often, businesses invest in generating a high quantity of leads without giving enough weight to the quality of the leads compared to the ideal client profile.
More leads isn't automatically a good thing if those leads aren't good leads that your internal resources can nurture effectively with quick follow up and personalized attention. This is especially the case if your employees spend all of their time qualifying or disqualifying large numbers of leads instead of pursuing quality accounts. Similarly, engagement metrics like email open rates or clicks and social media likes or follows mean little without indication that they turn into sales opportunities. Driving activity for the sake of activity and not measuring conversion or retention is a waste of resources that could lead to a bad brand experience.
Unlock the Mindshare to achieve next-level growth
No individual marketer can be an expert in every facet of marketing. There's simply too much to know and too much rapid change. For some marketers, this means they may overcome certain random acts of marketing but still run into trouble when it comes to other marketing areas (i.e., measurement and technology).
When you hire an Authentic Brand Fractional CMO, you get more than the expertise of one solo practitioner. You get the collective brainpower ("Mindshare") of our Fractional CMO team and our Ally Network of specialized marketing providers. Our Fractional CMOs meet several times each month to discuss client challenges and brainstorm solutions. Our Ally Network keeps us sharp on the latest marketing tools, technologies, and trends, so you always get the most innovative guidance. The Mindshare gives you access to expertise that spans marketing disciplines, industries, business types, and more.

If you're ready to put random acts behind you and make marketing a sustained, strategic, sales-aligned aspect of your business, let's connect. We'll share how Authentic Brand's unique approach, powered by Marketers, Methodology, and Mindshare, can help you build strong muscle in your marketing teams and programs to fuel your next-level growth.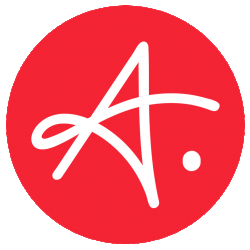 Latest posts by Authentic Brand
(see all)