There's nothing we enjoy more than being out in the market, connecting face-to-face with our clients, prospects, allies and friends. Here are some of the places you can find Authentic Brand. Come join us!
Upcoming Events: Connect with Authentic Brand
APRIL 17, 2018 | Marketers' Community
Not only did Authentic Brand design the brand and messaging around this new community and event series, but our founder, Jennifer Zick will also be a panelist at the debut MarTech-focused event! We can't wait to see you there. Details here.
APRIL 26-27, 2018 | Traction Client Conference
Gather your team and join us in Minneapolis for an event that will connect you to others on the EOS journey and strengthen your knowledge and implementation of EOS. Authentic Brand will be attending and connecting with our clients and allies. Details here.
MAY 17, 2018 | DenamiCON III
Join us for the Twin Cities Conference on Inbound Growth, featuring our very own Jennifer Zick, Authentic Brand Founder, as Emcee. This DenamiCON's theme is "Marketing in the Machine Age: The Path to a More (Artificially) Intelligent Future. Details here.
We fed 50 kids for a year!
What an awesome feeling. Serving side-by-side with 30 business professionals, representing brands from all across the Twin Cities, gathered together
Read more.
Two Or More Service Event: Feed My Starving Children
Join us for the two or more LAUNCH event on June 29th, 2017! (Updated) The first two or more service event is
Read more.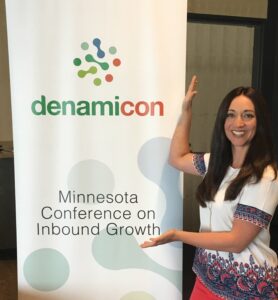 Event Recap: DenamiCON17
Earlier this week, I had the privilege of being included in the speaker lineup for DenamiCON17, an inbound growth-focused event, hosted
Read more.