There's nothing we enjoy more than connecting face-to-face with our clients, prospects, allies and friends. Here are some of the places you can find Authentic Brand. Come join us!
Upcoming Events: Connect with Authentic Brand
January 21 – Integrator Community™
[ VIRTUAL MEETING ]

If your business is powered by EOS
®
, and if your name is in the "Integrator" box on the accountability chart, this community is for you!
Never Miss Another Invitation!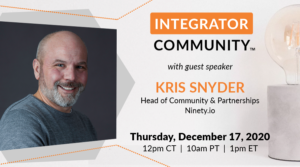 On November 16th, Authentic Brand hosted our Integrator Community™ event for companies powered by the Entrepreneurial Operating System®. Integrators took time out of their busy schedule to get a refresher on end of year financial planning from platinum LIFT partner, All In One Accounting.
Read More »