There's nothing we enjoy more than being out in the market, connecting face-to-face with our clients, prospects, allies and friends. Here are some of the places you can find Authentic Brand. Come join us!
Upcoming Events: Connect with Authentic Brand
MARCH 7, 2019: ACTION19 – The Resilient Business (a mini-conference for visionary leaders and teams)
Entrepreneurial leadership is not for the faint of heart. It takes a lot of endurance to stay the course through cycles of growth, hardship, and re-invention.
While many businesses are currently enjoying a season of growth, economists predict a recession on the near horizon. To survive and thrive through economic and demographic changes, we must lead with purpose, clarity, and RESILIENCE.
Join us for a half-day of insights and inspiration.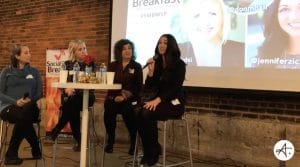 We were grateful to be included in a recent panel discussion at the Social Media Breakfast MSP series. The panel of entrepreneurs and independent consultants
Read More »