"We need a marketing leader."
Engage an executive marketer on a part-time and flexible basis who will lead, manage, and drive accountability.
Growing businesses need executive marketing leadership to help them make marketing a strategic partner in building revenue results. But not all businesses need a full-time, permanent executive role.
A Fractional CMO provides the leadership your business needs, on a part-time, flexible basis. We will help you move forward with confidence and overcome "random acts of marketing" to achieve revenue results.
Our unique approach combines Marketers + Methodology + Mindshare to build strong, strategic, sales-aligned marketing teams and programs. Our CMOs also help client teams engage the right external partners for marketing activation through our vetted Ally Network of providers.
Is Fractional CMO right for you?
When business leaders contact Authentic Brand, they are often trying to decide between making a full-time hire or bringing on a Fractional CMO on a contract basis. They also want to know the differences between independent consultants, agencies,  Interim CMOs and Fractional CMOs. Finally, they want to understand the value of a Fractional CMO compared to other options. 
The video below explains more about the role of an Authentic Brand Fractional CMO and how we help our clients build strong, sales-aligned, sustainable marketing teams and programs.
Finding the right marketing leadership solution for your business
There are a lot of ways for your businesses to access marketing talent. You could hire a full-time leader. You could contract with an independent consultant. You could engage a recruiter or staff augmentation firm, or hire an Interim CMO to fill the role during a period of transition. Or you could work with a  partner that specializes in Fractional CMO services – like Authentic Brand. 
No matter which path you choose, it's important to understand the differences so you can determine which path aligns best to your goals.
At Authentic Brand, we help our clients build strong marketing teams and programs through our unique model which is powered by three key elements: Marketers + Methodology + Mindshare. The video below explains more:
We've worked with many clients – across industries and markets – to achieve growth and revenue results. Below is one of our client's stories. See more stories, and a wide variety of logos and testimonials here.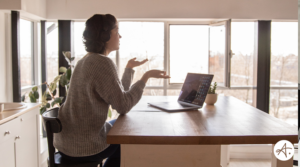 Regardless of how, exactly, remote work shakes out, it's clear that marketing teams must be able to collaborate remotely with confidence. This requires strategic marketing leaders that are well-equipped and experienced at helping businesses build effective remote teams and work cultures — and leading them from afar.
Read More »