Authentic Brand serves growing organizations (generally $5M – $100M in revenue) who need increased marketing proficiency to drive sales, and who are ready to make marketing a sustained, strategic, sales-aligned aspect of their business.
For these companies, we become an extension of the organization: providing services from fractional CMOs to strategy & coaching and brand & messaging.
We help our clients develop their marketing positioning, processes, team, and tools so that they are well-equipped to drive sustainable growth well into the future. We do this through our exclusive Marketing Traction™ methodology.
We are uniquely equipped to support companies who are powered by EOS® because we've implemented and run it in our own organizations. If you're an EOS-powered company, we understand how you run your business, and we compliment and support that methodology in the way that we deliver our services. We are not affiliated with EOS Worldwide, nor do we consult on EOS (but we'd be happy to refer you to some of the best in the business!). We are simply big fans who believe in the power of a clear vision supported by simple tools.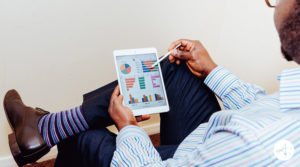 There's a point in a company growth cycle when businesses recognize that they need to invest in marketing for continued growth. Often these companies have been sales-driven until they realize they need a marketing leader dedicated to building brand awareness and driving meaningful engagement to support business objectives. They often choose between hiring a full-time leader, a fractional CMO, or a marketing agency.
Read More »