Many of you know that I am a long-time fan and user of EOS® – The Entrepreneurial Operating System®. Last week, I had first-time encounter with the broader EOS community at #EOSCONF18, and it was fantastic!
#EOSCONF18: An EOS Growth-Focused Conference on the Rise
On April 26 and 27, I had the opportunity to attend A Conference For Companies Running on EOS. How fortunate for our team that this year's event was in Minneapolis, just down the road from Authentic Brand headquarters! 2018 marks the second year of the conference, run by ProfitWorks (an EOS Implementer team), which has quickly become THE can't-miss learning and networking event for business leaders across the country whose organizations are powered by EOS.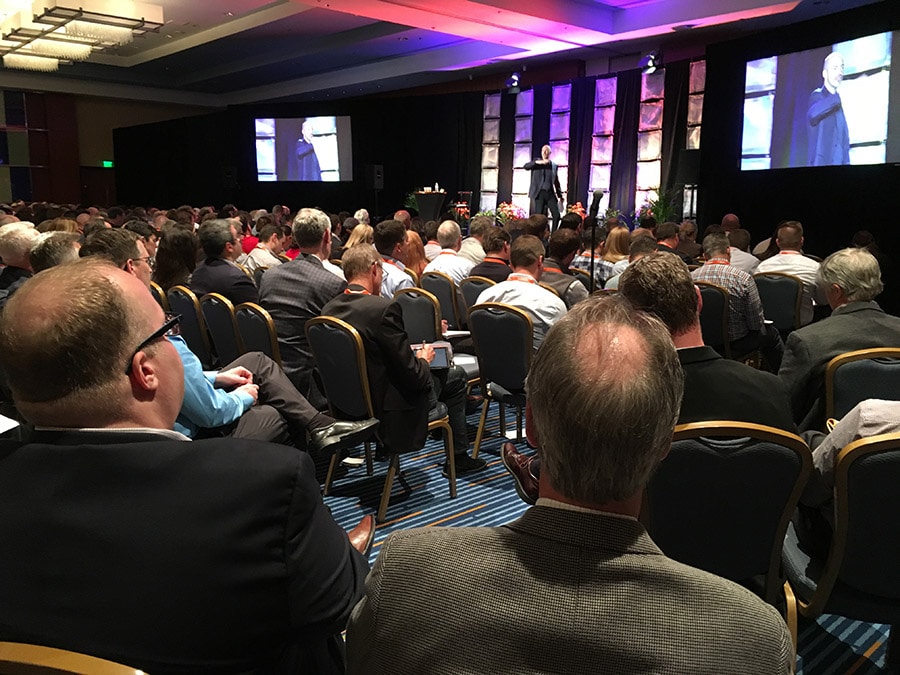 In its first year, the fledgling event drew more than 300 attendees to Atlanta. This year, A Conference For Companies Running on EOS (#EOSCONF18) more than doubled with over 600 attendees from all across the country. Next year, the conference moves back to Atlanta (May 2-3, 2019), where ProfitWorks is planning to host 900 or more Visionaries, Integrators, leadership team members, and EOS Implementers® for two days packed with engaging and inspiring content, all focused on helping businesses grow with Vision, Traction, and a Healthy culture.
EOS Conference Highlights (from a first-timer's perspective)
I enjoyed every session and the chance to learn from speakers who shared so openly and passionately about their EOS experiences. Most of all, I enjoyed the camaraderie and goodwill of the entire community. What a fantastic group of authentic people. I came away feeling like I found my peer group.
There were a few moments that stood out as personal bests at #EOSCONF18. Here are a few of those highlights!
Highlight 1: Client Connections
It was lovely to connect with a few of our favorite Authentic Brand clients, including leaders from Pro-Tec Design, Empirehouse and Beehive Strategic Communication. Here's one picture with super-fabulous client, Becky McNamara of Beehive!
Highlight 2: Partner Collaboration to Create V/IP After Party
Authentic Brand was happy to partner with KeyStone Search (the conference Platinum Sponsor) to brand, promote and host the first-ever V/IP After Party: an exclusive, invite-only cocktail reception for Visionaries, Integrators, and their EOS Implementers. We had a fantastic turn-out, and are already making plans for 2019! Special thanks to Anchor Bank for their support as a sponsor of the after party. Check out a more V/IP event photos here.
Highlight 3: The Always Fabulous Authentic Brand Team
I got to welcome and introduce my new employee to our partners and clients (even though she doesn't officially start work for Authentic Brand until May 1)! I was thrilled to have Emily Youngblood join us in hosting the V/IP event, together with two brilliant members of our fractional leadership team, Maureen Sullivan and Jim Arnost. I have the BEST team! Seriously…Look at how good looking they are!
Highlight 4: A Blast From the Past (Magnet 360 Reunion)
I was able to reconnect with some long-time friends and former colleagues from my Magnet 360 days, including Justin Cox and Josh Holtzman, who are now both Certified EOS Implementers, as well as Doug Anderson, Integrator and COO at Magnet 360.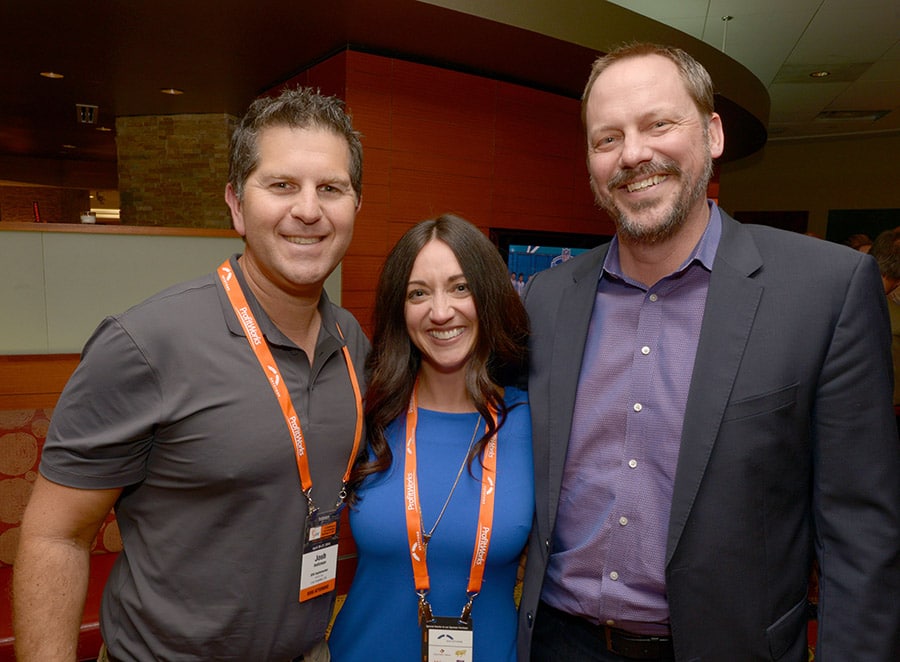 Highlight 5: EOS Implementer Connections
#EOSCONF18 provided the much-anticipated opportunity to meet and spend time with many of the most experienced EOS Implementers in the market, as well as several newly-minted EOSi's: all experienced business consultants and advisors, committed to helping business leaders get more of what they want from their businesses. I enjoyed the chance to re-connect with regional friends, and finally meet others in real life for the first time. Glad to have many EOSi's join us for our V/IP event!
Highlight 6: The Dynamic Duo – Paton & Knight
I enjoyed the chance to catch up with Mike Paton: otherwise known as simply "Paton" and the godfather of Traction in the Midwest according to Minnesota Business Magazine, now Visionary of EOS Worldwide. I had the advantage of learning EOS under Paton's tutelage more than a decade ago: an experience that shaped my career in more ways than I could have possibly predicted at the time. What a treat to also meet Kelly Knight, EOS Worldwide President and Integrator, and the other half of the dynamic duo responsible for growing the EOS global brand and community.
Highlight 7: The Legend that is Gino Wickman
I was thrilled to meet and spend time with Gino Wickman and his lovely wife and daughter at our V/IP party. (I may have admitted to Gino that I am a bit of a Traction / Wickman fangirl.) I loved hearing from Gino in his keynote as he talked about the "EOS Life®" and his commitment to using his God-given gifts and talents – in this next phase of his career – to help empower young entrepreneurs. Here is me, hanging on every word in my 1:1 conversation with Gino:
And here is "Me" as a stick person. Stick person Jennifer has lots of hair, just like real-life Jennifer. Real-life Jennifer took lots of notes during Gino's keynote on living the EOS Life. My hair and I left feeling very inspired!
A Couple Social Shout-Outs
Serious Kudos Deserved
As someone who has planned, organized, promoted, and hosted events and conferences throughout my marketing career (and who appreciates the MASSIVE amount of effort involved), I have to commend the leaders at ProfitWorks for recognizing the opportunity to bring this community together, and their team for creating a dynamic and valuable event. I left with a focused list of to-do's for my business and helpful ideas for our clients, as well. I'm already looking forward to next year! Congrats to Alex Freytag, Tom Bouwer, Victoria Cabot and the ProfitWorks team for building a great event.
I hope this post has inspired you to join me at #EOSCONF19, May 2-3 in Atlanta. Get your discounted tickets – while supplies last – at www.tractionclientconference.com/act-now.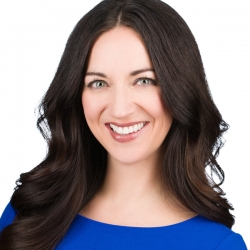 Latest posts by Jennifer Zick
(see all)