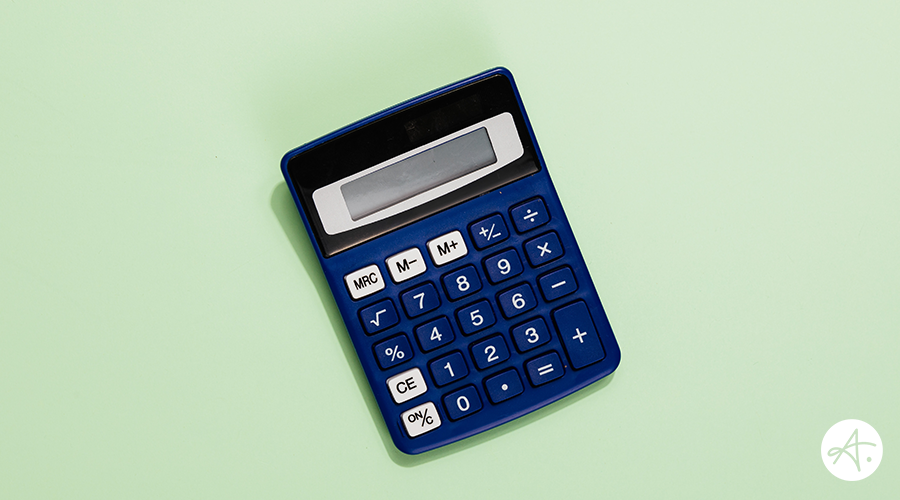 At Authentic Brand, we work primarily with small to mid-size growing businesses that have started to invest in marketing activities but aren't sure if they are allocating resources in the best way to support their business growth goals. One of the most common questions we get from clients is, "How much should I spend on marketing?" It seems like a simple question, but unfortunately, the answer isn't. The not-so-satisfying answer we often give to questions about marketing budget allocation is, "It depends."
We know this isn't the answer business leaders want to hear. It would be easier if we could promise an exact ROI on every dollar spent. But making these promises would be doing a disservice to clients and marketers everywhere. There are too many variables to consider to give a silver-bullet answer. Plus, to ask marketing alone to be responsible for dollars in and dollars out doesn't make sense. Marketing is bigger — and more strategic — than just creating new leads for sales.
One of the common parameters that CFOs use when setting a go-to-market budget (often inclusive of both sales and marketing spend) is to aim for somewhere between 10% to 20% of the business's annual revenue. But even within those parameters, there is extreme nuance to weigh, including the industry, growth expectations, and business model. This blog will help you reframe how you think about your organization's marketing budget allocation and the questions you should answer before setting a number.
Factors that impact marketing budget allocation
The primary reason why it's difficult to give a simple answer to questions about marketing budget allocation is that no two businesses are the same. It's critical to consider the following factors when setting a marketing budget for your organization.
1. Growth expectations
Healthy growth for your company could look dramatically different from the business with an office next door to yours. Knowing what 1) healthy growth is for your business and 2) what amount of time it needs to achieve that growth are the first parameters to define before setting a marketing budget.

Healthy growth could be a 2% increase in revenue over the previous year, or, for some companies, it could be doubling revenue or getting acquired. Define what healthy growth means for your organization and communicate it to your team. Once you define the business's growth goal, chisel away at answering the following questions:
In what time frame do we need to hit this growth goal?
Is there enough market opportunity for us to pursue to hit this growth goal?
How long does it take for us to create and close a deal? Do our sales move fast enough to achieve our desired growth within our planned timeline?
Who are our ideal buyers, and what motivates them to engage with us and consider our solutions?
These are the types of business strategy questions that leaders must clarify to understand the company's appetite for marketing investment and its expected growth pace. Knowing this will help you determine how quickly you need to pour fuel (marketing budget) onto the fire to create the momentum the business needs to achieve its healthy growth.
2. Industry and business stage
The industry and growth stage that your business is in impacts how much you should allocate to your marketing budget. For example, an established multi-generation manufacturer that makes slim margins on their product, but has a very established market, might invest only a small fraction of their revenue in marketing. It might make more sense for this business to invest more in product development to achieve its healthy growth level.
As a percentage of its revenue, the manufacturers' marketing investment may look like pennies compared to a fast-growing, highly-funded technology startup that is working toward significant dividends in a short amount of time. This startup may invest huge sums of money in marketing before it even earns revenue because it's trying to claim its place in a young and competitive market.
3. Business model: B2B vs. B2C
Whether your business sells directly to consumers, other companies, or via channel partners has a significant bearing on your marketing investments and expectations. In a B2C environment, items are usually lower cost, direct response marketing prevails, and it often requires less time to convert a customer. A B2C company might invest more funds directly into its marketing programs because it's the quickest and most effective way to generate new business. If there is a sales team, it likely doesn't play as significant a role in revenue generation as marketing does. Companies can more easily glean information about customers from consumer market data and campaign data, helping them quickly assess and sharpen marketing investments.
This approach varies significantly from a B2B organization, which is likely selling higher-priced products or services. The sales cycle for B2B companies is often long and complex. It typically takes 6-12 months, involves many decision-makers, and requires numerous multichannel marketing touchpoints to support decision-making. It's more difficult to clearly and quickly attribute marketing spend to results, making it challenging to determine where to focus. B2B companies, unlike many B2C businesses, split their overall go-to-market budget between sales and marketing to fuel a program that's both multichannel and sophisticated.
It's also especially critical in B2B environments to invest in both the right short-term sales activation activities and long-term brand building activities. Both activities support sales, but brand investment becomes much more valuable over time because it allows the business to increase its prices, build brand preference, and scale. (See "Marketing Works in Two Ways" graph.)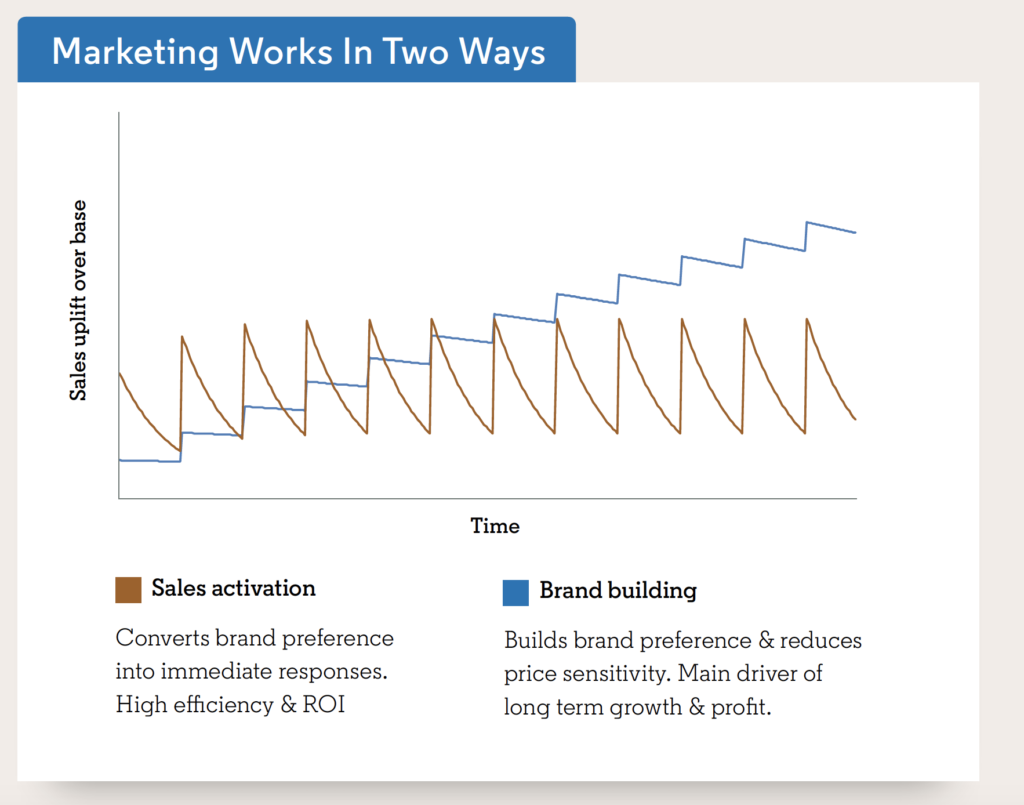 What's next? How to support your business's marketing budget allocation
Setting a marketing budget is tricky but critical to defining and hitting growth goals. Once you've evaluated the factors above for your business, defined healthy growth, and set a budget, double-check it and refine it against the following questions:
Have you created a flexible budget that the business can tweak based on progress, performance, new opportunities, and unexpected industry or global events? If 2020 taught us one thing, it's that the world can change quickly, and our marketing budgets and plans must always be flexible and adaptable. Set your marketing budget on your best-guess hypothesis, but don't lock yourselves into it.
Do you have enough budget set aside to hire marketers, agencies, and freelance partners? Standard compensation for a senior marketer can run $185,000-250,000+, and hiring the right strategic marketer is the most important investment you can make to build a vibrant, successful brand. We have found that growing brands excel with a Fractional CMO supported by a marketing coordinator or manager and agencies or freelancers that support marketing activities like content, events, design, and digital marketing. Your Fractional CMO will know who you need to hire and what skills are most important in your staff and partners.
Do you have enough budget set aside for marketing activities and programs? Without a strong budget, it won't be easy to attract high-quality marketing candidates or enable them to run an effective marketing program. The right senior marketer will help you evaluate channels and opportunities to distribute your marketing budget effectively across them. Traditional marketing budgets included advertising, trade shows, and partnerships. Today's modern marketing budget should also have investments in the channels the brand owns and digital marketing.
---
Ready to take your business to the next level with a strong marketing budget? Authentic Brand can help you set a marketing budget that will support your organization's growth goals and build a strong brand. Our team of experienced Fractional CMOs has navigated budget discussions across a variety of business types, sizes, and industries.
Together with our Authentic Growth Methodology™, our senior marketing leaders will help you set a budget that we'll test and refine to ensure you spend your marketing dollars in the best, most strategic way for your business. We'll support you with an entire mindshare of senior leaders and specialized partners who will brainstorm and collaborate to achieve results for your business. There may not be a silver-bullet answer we can give you for marketing budget allocation — but we'll work hard and strategically to find the best answer for your business.
A word from our Founder: Marketing budgets for growing businesses
"What we sell at Authentic Brand is Fractional CMO leadership. What our clients need is marketing leadership AND activation. Both require investment. I can give you a Scope of Work for our Fractional CMO services, but I won't give you a budget for execution. Why? I made a video to answer this question for a prospect. I hope it's insightful for you, as well!"
– Jennifer Zick, Founder & CEO, Authentic Brand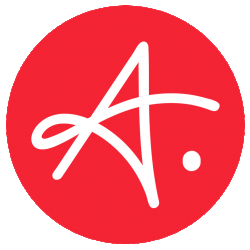 Latest posts by Authentic Brand
(see all)