"Vision without traction is merely hallucination."

― Gino Wickman, Traction: Get a Grip on Your Business

What does it take to go from a hot dog cart to a $459 million dollar a year restaurant chain? It takes a clear vision, backed by systematic process, led by experience.
This is the story of Randy Gurutti, CEO of Shake Shack. After successfully rising through the ranks of an established hospitality firm, he set up a hot dog cart in Madison Square Park. That cart didn't grow by luck and the chain didn't go public without the vision and structure set in place by Gurutti. Shake Shack has developed such an impressive process that its locations even outperform McDonald's.
Your business is likely well beyond the "hot dog cart" phase, but that doesn't mean you aren't anxious to continue growing and improving. The question is, how will you achieve that growth? 
In this guide, we'll talk about the not-so-secret sauce that makes it possible for businesses to build marketing programs that support and drive their growth goals.
Why build a marketing program
According to Business Insider's 2016 State of Small Business Report, 72% of small businesses are focused on increasing revenue, but they also see great value in establishing new customer relationships (60%), marketing and advertising (46%).
After years of working in and with fast-growing businesses, I've seen the factors that drive leaders to seek out marketing programs that can deliver repeatable results. This drive can lead to a tipping point in the business's growth trajectory — the do or die moment where your business either advances toward its growth vision or it plateaus.
Businesses usually reach this point somewhere between $5-50+ million in revenue. Up to this point, their growth may have been driven by a sales-focused strategy backed by a strong product/service and strong customer relationships, which translates into referrals and a high retention rate. But, eventually, these good things stop being exponential growth factors and the business's rise starts to flatline. 
This is the moment when business leaders stop focusing on the fading light of past success and have their aha! moment. They recognize that what got them to $20 million cannot get them to $100 million. Next-level growth will require a strategic, sustained investment into marketing.
With this comes another realization: their business was probably operating in the land of random acts of marketing. You may recognize this in your own business — one-off campaigns, inconsistent paid ads, a ghost town blog or social media presence, and little to no process or strategy around marketing. Next-level growth requires the right framework and a shift in mindset and skillsets that your team probably doesn't yet have.
What does your business need to do to have a breakthrough? The simple answer is: build a marketing program that's both strategic and sustained. How can businesses do this effectively? A truly successful marketing program requires a partner in revenue growth. Someone who can think strategically, own the role, and propel the business forward based on proven expertise and experience.
In summary, what factors should motivate you to build a marketing program?
Your business needs to continue growing to achieve your vision. 
You know that you need to do things differently to attain next-level growth. 
You are ready to make marketing a strategic, sustained, sales-aligned function and you need a leader that can guide and integrate marketing for your business.
The risk of committing Random Acts of Marketing
"Your brand is vital in contributing to the success of your business. As a business leader with a million things on your plate, you'll never be able to give your marketing and brand the time they need to reach their full potential. Hiring a specialized marketer gives you a veteran who can be in your corner, champion your brand, and effectively communicate with your audience, so that your revenue goes up!"

Derek Sussner, Sussner Design Co.
---
Everybody thinks they're a marketer. I find this ironic. I would never go around claiming I could do the job of an accountant. I don't have the background, the training, or the years of experience to perform that function of the business. But for some reason, from the C-Suite to the sales rep, everyone likes to think they know what marketing should be doing, and how they should be doing it. This belief is the basis for a lot of "shiny object" marketing activity.
A business leader may see their competitors on social media, at a trade show, or producing content and think that copying these tactics is the key to growth. This reactive, flavor-of-the-day approach leads to investments that can quickly drain the marketing budget while providing few to no results. It's not surprising that this situation would lead business leaders may say, "We can't afford a head of marketing, look at how much we're already spending!"
It takes an integrated strategy that's built across the right channels to produce a positive ROI from marketing. Maintaining an integrated strategy requires strong marketing muscle. 
When is the right time to build your marketing muscle?
Sales and marketing need to be in lockstep from the very beginning. These roles need to align on Target Market, Stakeholders (Decision makers and influencers), Messaging and Differentiation/Value Proposition. When sales and marketing agree on the plan, then marketing can reach out to those stakeholders at the right companies with the right message at the right time. Too often, these functions work in silos or in separate directions. 

Gary Braun, Pivotal Advisors
---
If you're a growth-focused business, then you should have a business plan that sets targets for your growth over the next 3-10 years. You've likely factored marketing into these plans, knowing that you will need it to keep growing. But, expecting marketing to be your business's knight in shining armor needs to be balanced with some realism.
At Authentic Brand, we frequently work with B2B companies and that typically means long sales cycles. On average, it will take 6-24 months for new opportunities to close, and that's not factoring in the months of awareness-building marketing activity that happens prior to that. Sales take a long time, in many cases much longer than business leaders plan for, and that's where the problem begins.
Over and over again companies will wait for their pipeline to falter before making a Hail Mary investment in marketing. At this point, it's too late; any leads generated during marketing's first quarter won't close for at least six more months. By then it's likely that the appetite for investing in marketing will have faded away, and the marketing investment will fizzle out.
We've answered, "When is the wrong time to invest in marketing?" We're left with the question, "When is the right time?" (Hint: it's sooner than you think.)
The time to start building rigorous marketing discipline at scale is two years before you need the revenue it will generate. The best marketing leaders invest today for the results they want to see in 12-24 months. Building your marketing program early and being willing to stay the course is critical to your organization's health. This has three critical effects:
It helps you foster better opportunities for sales so that growth isn't solely dependent on adding headcount to your sales team.
It gives your marketing leader time to steer the ship and course-correct (it takes time to move the Titanic away from the iceberg).
It's more likely that your lead volume will outpace your client churn and allow for continued growth.
These three benefits all align with revenue growth and health, but this is just one side of the coin. On the other side, building a true marketing program early can protect you from unnecessary expenses and low ROI piecemeal campaigns. An effective marketing leader will reduce ineffective marketing spend and reallocate it accordingly. This will lead to a tighter focus on the marketing activities that drive the long-term ROI that your growth trajectory needs.
Strong marketing programs help businesses build marketing muscle. But, by definition, a marketing program is a set of expectations for your marketing leader and team. How can you set the right expectations for your marketing program and effectively measure the results?
Set your expectations. What will matter and how will you measure it?
Before you can set the expectations for your marketing program, you need to set your own expectations of what marketing will look like in your business. Starting a marketing program doesn't mean you're embarking on an immediate upward trajectory. In fact, you should initially expect the opposite. Things will likely get worse before they get better, messier before they get tidier, and more broken before they get put together in an optimal way to build a strong revenue engine. 
This happens because you've likely been living in the land of random acts of marketing. Up to this point, you've been product, service, operations, and/or sales focused. These are all critical aspects to building a solid foundation, but often leave little time and attention for building a sustainable marketing infrastructure.
Without this marketing infrastructure, your business will be vulnerable to gaps. For example, if your expectation is demand generation and you don't have a CRM or a process for nurturing leads to support it, then demand generation isn't going to work for you. You need to break down those processes and then fix or build them.
The process looks something like this: 
Identify gaps in systems and data, as well as leaks in budgets and resources. 
Implement the fixes that close these gaps: building processes, redirecting budgets and talent where needed, implementing essential tools that can help create visibility, accountability, and structure. 
After all of the gaps are fixed and the foundation is set, the organization is finally ready to introduce new tactics, channels, campaigns, and programs that can now be effectively managed and measured.
As the break-fix process is happening, you need to continue refining your expectations for your marketing program. Marketing is an investment, and no investor writes a check without first defining what they want in return. Ask yourself, "What do I want to get from marketing?" Common "returns" include demand generation, brand-building, partnership development, account expansion, new product development, talent recruitment, etc.
Deciding how your organization needs to market to achieve positive revenue growth will help you set the right strategy and expectations for your marketing team. In other words, marketing needs to ladder up to the areas for growth and revenue goals you've identified in your business plan. This is critical to keeping your marketing aligned and in step with the organization.
Once these overarching goals have been agreed to by everyone, they'll act as your guiding principle for measuring success, setting expectations, and defining a strategy.
Building the right marketing team and program to face the challenge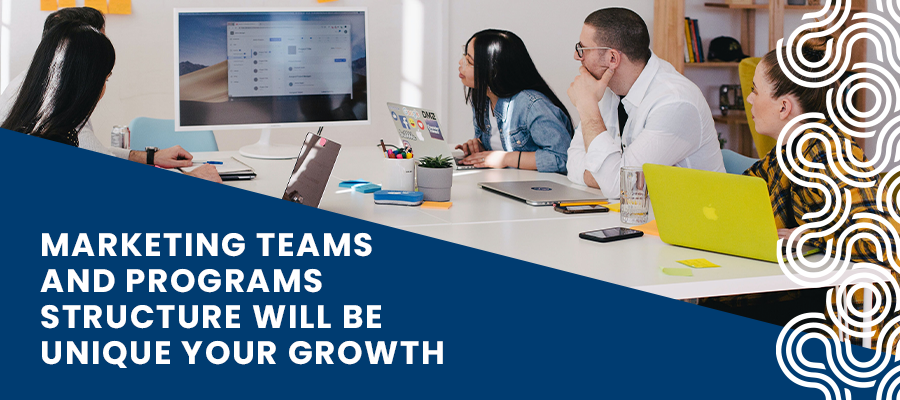 What type of marketing team and program do you need to build? The answer is a big fat "it depends." 
Who you hire and the size of your marketing program will be based on the marketing challenge you're facing. Launching a new product line or building brand recognition in a crowded space will require considerably more effort than increasing demand generation at an already thriving business. The marketing challenge then needs to be tempered by your timeline and organizational culture. What does this look like in practice?
A B2B firm with $25 million in annual revenue has the goal of doubling its revenue over the next 3-years. The organization projects that they can reach half of their three-year target by retaining and growing existing client accounts, but they will need 50% of their top-line revenue to come from net-new clients. These are the outcomes that the firm would like to achieve. Now we need to balance these with the company's current situation.
At present, the CEO and VP of Sales are both involved in marketing along with the support of an agency partner. While this has helped them to check a few marketing boxes in the past, it's not a truly integrated strategy. The firm sells through one-to-one relationships and its executive and sales resources are fully-leveraged toward the effort of expanding and retaining existing customer accounts. Meanwhile, nobody owns or is driving the strategy to build a net-new pipeline and create new opportunities.
In my experience, companies faced with this type of challenge can successfully build for stable, sales-aligned growth by bringing in a senior-level marketing leader. This leader will be able to understand on a holistic level the options available to build a program that aligns to the business' growth targets. They'll be able to articulate the overarching marketing strategy, identify the tactics required to execute, and align the talent and resources needed to support those tactics.
These leaders line up the marketing puzzle pieces with the rest of the organization. They'll likely execute many tactics in-house with the support of a marketing coordinator or team. In many cases, they'll also manage relationships with vendors that can support the more specialized areas of your marketing program, such as video production, web development, or content strategy.
In summary, the marketing team and program you build will be based on a combination of four things:
The marketing challenge your organization is facing.
The strategy that's been defined to stand up to that marketing challenge.
The tactics required to activate the strategy.
The resources needed to execute the tactics.
Establishing marketing leadership that aligns with your goals
The era of the CMO has arrived. Chief marketing officers are more important to the success of global businesses — and more powerful — than ever before.

Business Insider
---
Marketing leadership is at the core of any successful marketing program. But, there are a lot of dangerous misconceptions around marketing leaders that can hurt your company. One of the most misguided notions that I have heard recently is that no one over the age of 30 can be a modern marketer because they didn't "grow up in the digital age".
Mobile and digital technologies have significantly shifted buying behavior, so some business leaders assume that they need a "digital native" marketer for their program to be effective.
Being a marketing leader has little to do with an individual's Instagram account or their ability to architect the latest piece of automation. Instead, it's about knowing how to navigate business growth from experience in the trenches. A fully-developed understanding of business dynamics, channels, structures, buyers, and markets is what makes someone an effective marketing leader. 
A strong marketing leader is not defined by age, but by their ability to constantly maintain a view on emerging trends and technologies, and understand how to engage and direct the right tactical support to fuel the appropriate program that supports your business growth.
Your marketing leader should have a deep well of experience to draw from when guiding marketing investments, together with the wisdom to discern results and refine the program to create the largest impact.
Most importantly, a strong marketing leader will stand on equal footing with your senior leaders. They will be able to challenge the CEO's flavor of the day idea that will lead to another random act of marketing. They will have the credibility and autonomy to strategically drive revenue in a way that will be best for your organization and support the big picture.
If it hasn't been obvious up to this point, marketing leadership is critical to achieving your big-picture goals. Random acts of marketing or focusing on tactics may bring some short-term value, but overall your marketing activities will be far less likely to deliver predictable, repeatable results.
How to choose the right full-time marketing leader 
In a recent series of articles, I went in-depth on hiring a full-time marketing leader. For the full story, I encourage you to read that series. But, for now, let's condense what it takes to hire for this role.
Reflect on the goals of your marketing program. What skills will your marketing leader need beyond the high-level business skills you would expect from any senior leader? Write these out to help you stay focused as you vet candidates.
Ensure you have the right budget set aside to support this role. Standard compensation for a senior marketer can run from $150,000-200,000+. You'll also need a dedicated marketing activation / program budget, aligned to your current revenues and your growth vision. Without this budget in place, you can't attract high-quality candidates or enable them to run an effective marketing program.
Cast a wide net. It may seem logical to hire someone with experience in your industry or with a company modeled like yours, but by casting a wide net, you open yourself up to benefit from highly experienced candidates from other industries and business models who could bring a fresh perspective to your company.
To make the hiring process easier on yourself, you could consider working with a recruiter or consultant in the marketing space. They will be able to help you better define the role, set expectations for the hire, and bring in the best candidates possible.
At this point, you may also decide that you're not ready to bring a full-time marketing leader onboard. Does this mean your organization has to go without marketing leadership? No. If you're not ready to make a full-time, permanent hire, a Fractional CMO can be a great bridge solution. Fractional CMOs provide the senior marketing leadership you need today, on a part-time basis, and also help you further define a future full-time role to lead marketing at your organization.
What is a Fractional CMO? Learn more about this flexible leadership model through the following explainer video.
Getting the right start on your marketing program by setting and tracking plans and metrics 
"A dream written down with a date becomes a goal. A goal broken down into steps becomes a plan. A plan backed by action makes your dreams come true."

– Greg Reid
---
Founders and CEOs start with a dream or a vision that develops over time. It gets communicated from the top-down, and in the early days, that seems to be all it takes to drive growth. Passionately sharing this dream with employees gets them to believe in the work, put in the hours, and make progress. But, eventually, a dream alone won't be enough.
Tell any employee that you have a dream to 3x the business in two years and get ready to be challenged with a "how?" This is the point where the dream needs to get translated into a goal, broken down into a plan that can be acted on. This is especially critical when we talk about marketing since it is often thought of as a creative, intangible, experimental field.
We've talked a lot about growth goals and lining these up with marketing. We know organizations need to have a marketing framework in place that ensures alignment with organizational objectives, messaging, and the sales department. But, what does that look like at the nuts and bolts level? Let me share from my own experience how we create this alignment for our clients.
Authentic Growth™ Marketing Methodology: This foundational process captures your brand essence and story, together with an actionable 12-month marketing plan that aligns to your overall business goals, with specific targets, metrics, and budget.
Quarterly Workshops: Following the annual plan, specific marketing initiatives are set and tracked over 90 day periods. Bringing all key revenue stakeholders together in one room allows everyone to align on priorities, and also avoid random acts of marketing. This keeps resources focused on the activities that are most likely to positively impact revenue and results. 
Weekly Cadence Meeting: Weekly meetings create opportunities to provide updates, solve challenges, and create accountability across your team.
These elements come together to provide clear objectives and the strategy needed for growth. But, most importantly, they give your revenue-driving marketing leader alignment with your broader team and business initiatives.
Marketing programs take time. Let's get started now.
Building a marketing program requires leaders to understand where the business has been and where it plans to go. They need to examine what's currently active in the marketing and sales organization and imagine a future where things could work together to drive growth. This takes a very seasoned eye and a lot of nuance — a blend of art and science. It also means understanding today's modern marketing solutions and how you should go about implementing them to support your business and goals.
Think of your marketing leader as a master chef. If you want to open a restaurant (even if you start out as a hot dog stand) you first need a skilled chef to design a menu and create a vision before your staff can execute on it. When it comes to building your marketing program, you need a marketing leader first before any longer-term growth can happen.
Your marketing leader, or master chef, will be able to take your marketing program from ad hoc, disjointed, and fuzzy to clear and focused. This will allow for more strategic and sustained pushes toward the next level of revenue, which will only be enhanced as they layer on additional marketing processes and talent.
Over the years, I've learned the value of aligned, sustained, and strategic marketing programs. Our Authentic Growth™ Methodology and marketing leadership offerings provide the strategy and energy needed to get your brand to its next level of growth. Let's connect to help you get started!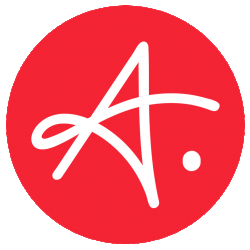 Latest posts by Authentic Brand
(see all)