As a community of fractional CMOs, we've always rooted our client work in Authentic Growth™ methodology. This methodology is our proven process that helps small and mid-sized businesses build strategic marketing departments and create alignment between sales and marketing.
We continue to build upon our methodology foundation as we learn more about our clients' needs and how we can best serve them.
One such learning led us to create the Authentic Growth™ Marketing Maturity Matrix, which demonstrates the stages of maturity every business must go through across ten distinct marketing attributes. We rank each attribute individually on the following levels of maturity:
Founding
Formative
Functional
Focused
Forward
Flywheel
Before we developed the matrix, prospective clients would come to Authentic Brand thinking they only needed a marketing strategy to solve their growth challenges. But as experienced marketers, we knew we'd be doing them a disservice if we told them we could create a marketing strategy and then send them on their way to marketing triumph.
Building mature marketing teams and programs takes discipline, rigor, investments, and time. Our Authentic Growth Marketing Maturity Matrix helps us set realistic expectations with clients about what it takes to build strategic marketing teams and programs that support business growth.
While many other fractional CMO providers and marketing consultants focus on short-term, strategy-setting engagements, Authentic Brand is here to build high-performing, sustainable teams and programs. This work takes many iterative cycles and several years. Notice the last line of the matrix, showing the role of a fractional CMO across the timeline of maturity-building. While other consultants may offer strategic input on one marketing attribute or at a certain stage of growth, Authentic Brand's fractional CMOs grow with our clients with full accountability for every attribute at every stage of maturity.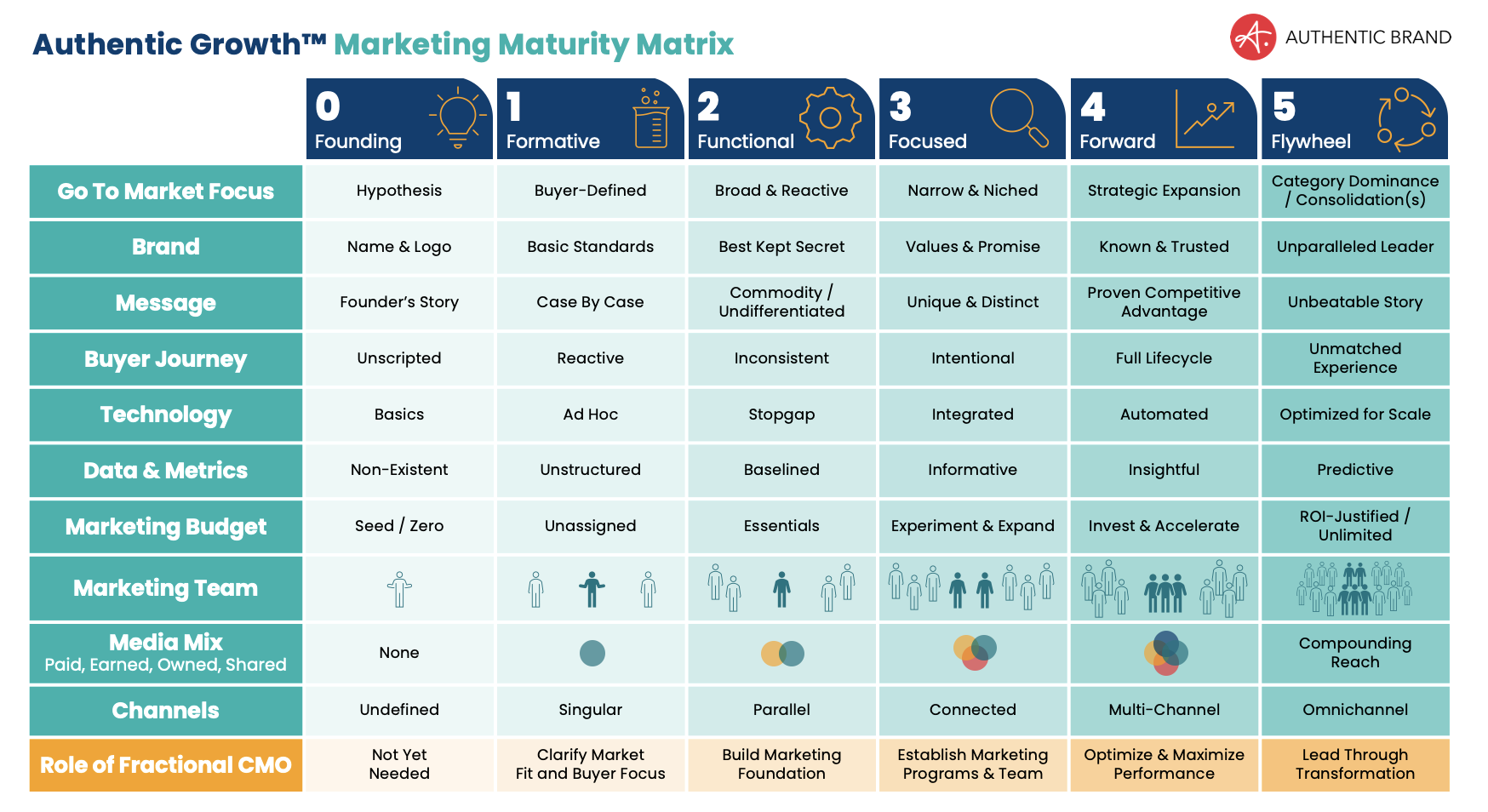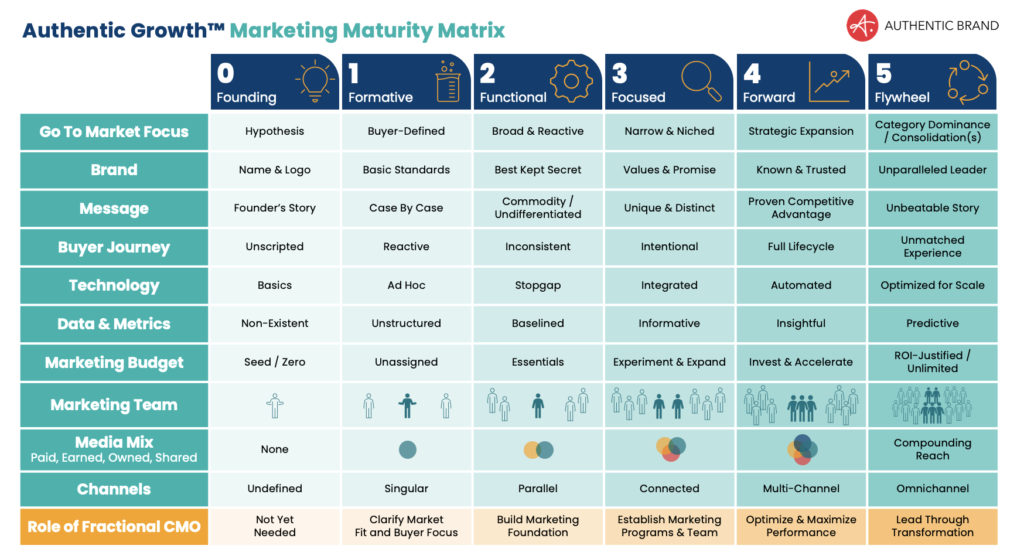 How we use our marketing maturity matrix with clients
Our fractional CMOs use the Authentic Growth Marketing Maturity Matrix as a diagnostic tool during the initial discovery phase of every client engagement and every quarter after that. During this discovery phase, we use our proprietary assessment and audit tools to review marketing assets and artifacts, conduct strengths and gap analyses, and uncover key insights. We then use the matrix to assess a client's overall marketing maturity across the ten attributes.
The maturity matrix guides client conversations, helping clients see how mature their marketing is across different areas. The matrix also helps our fractional CMOs prioritize which attributes to focus on during each quarter.
For example, we may discover that a client is very mature, or at stage 4 (Forward), in brand, message, and go-to-market focus but less mature, or at stage 1 (Formative), with the development of its marketing team and media mix. As a result, the fractional CMO may focus the next 90-day cycle on maturing the marketing team and re-evaluating the media mix. During our quarterly business review, we then review the client's maturity progress for its marketing team and media mix (and all of the other attributes).
Defining the 10 marketing maturity matrix attributes
It's the dream of every business owner, founder, or investor to build something of such great success that it is in itself a flywheel of value creation. But from a marketing perspective, the brand must be highly trusted and uniquely positioned before reaching flywheel status.
None of that comes easily; it takes time and intentional, strategic efforts to build maturity across the following ten marketing attributes, which ultimately help power a flywheel growth engine.
Go-to-market focus: The flag the business plants stating what it's bringing to the world and for whom. This includes the product or service they're offering, who their buyers are, and the space in which they'll sell that product or service.
Brand: At its most mature, a brand is the promise an organization makes to the world and how the world experiences the delivery of that promise.
Buyer's journey: The experience a buyer has at each encounter with a brand.
Technology: The necessary tools that enable engagement with ideal audiences and create a framework for scaling.
Data & metrics: The information and intelligence that helps a business measure its progress toward objectives.
Marketing budget: The investment allocated toward marketing resourcing and execution, including the pace at which the team can spend the investment.
Marketing team: The blend of internal or external resources that lead the marketing strategy and execute on the marketing plan.
Media mix: The combination of mediums (e.g., paid, earned, shared, owned) through which a brand engages with the world and its buyers.
Channels: The primary pathways a business drives growth through marketing (e.g., account-based marketing, partnerships, referral networks, thought leadership).
Our fractional CMOs rate our clients' maturity on each of the above attributes using a six-stage scale ranging from level 0 (Founding) to level 5 (Flywheel). There's no attribute from the list above that businesses can leave on the sidelines. Each is important to build a strategic, modern marketing organization, even if how they come to life via execution looks different across different types and sizes of businesses.
Assessing your company's marketing maturity
You might be wondering why we would "give away" the ins and outs of a proprietary tool like the Authentic Growth Marketing Maturity Matrix. (In 2023, we'll be doing a deep dive into each attribute, highlighting what each stage of maturity looks like across each attribute.)
Here's why: We invite any business to use this tool to assess the maturity of their marketing team and programs. While the tool itself can provide some helpful insights, many growing companies don't have the depth of marketing expertise or the time and attention needed to effectively activate those insights in their organizations. They need an experienced marketer at the helm.
Strategic marketing leaders drive real value for businesses. This maturity matrix demonstrates that, showing what it takes to create a flywheel marketing organization. Authentic™ Fractional CMOs are highly experienced and trained in Authentic Brand's methodologies to help businesses Overcome Random Acts of Marketing® and confidently take the next right step to achieve healthy growth.
Does this sound like what your business needs? Let's get started with assessing the maturity of your marketing team and programs.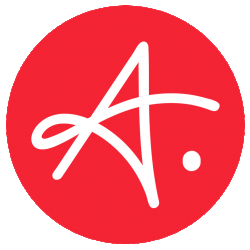 Latest posts by Authentic Brand
(see all)