A buyer's journey is the experience a buyer has at each encounter with a brand. Marketing teams often map a buyer's journey to stages, and many buyer's journey examples are available to help teams visualize them.
Some of the most popular journey maps only include the stages a buyer travels through until the sale. At Authentic, we believe it's crucial to map the buyer's journey beyond the point of purchase through the entire lifecycle to a loyal customer; existing customers can be a significant source of additional revenue when they become advocates for your brand, refer others to your business, or purchase more products or services. We use the following stages to identify the entire customer journey: awareness, consideration, acquisition, service, and loyalty.
Delivering an experience that supports customers on their journey is fundamental to strong marketing. But documenting a buyer's journey and designing an experience around it isn't relevant until a business has found the right product-market fit and understands its ideal buyer. This takes time, experimentation, and a strategic understanding of marketing as the business matures.
To help our clients confidently move through this progression, we use our Authentic Growth™ Marketing Maturity Matrix — ultimately helping growing businesses deliver an unmatched experience for their buyers.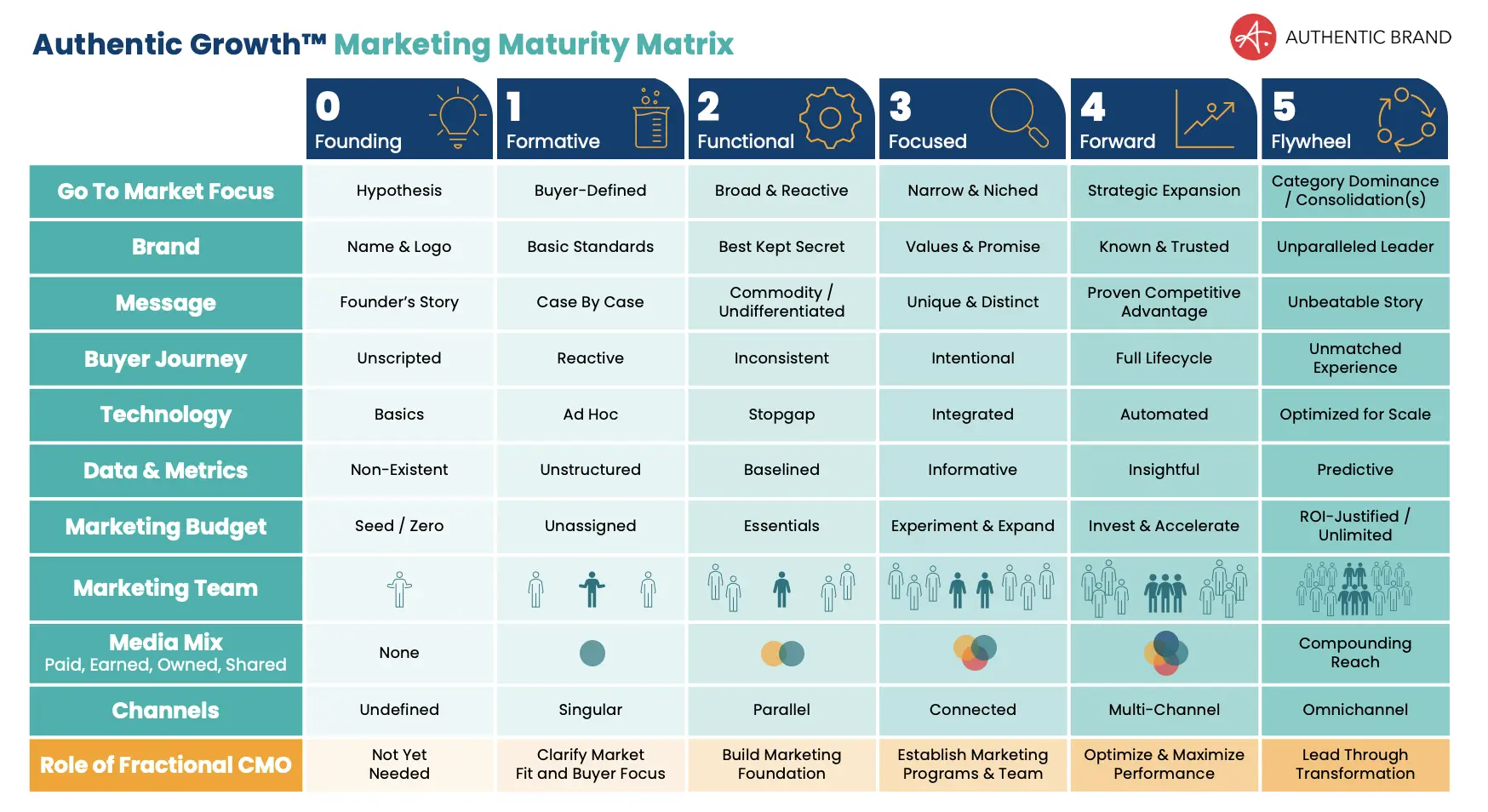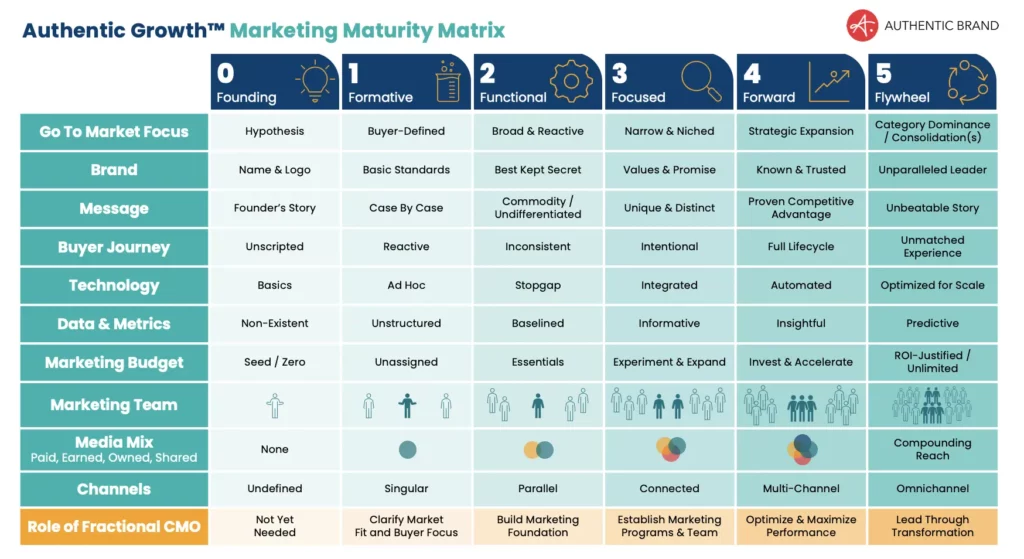 The path to supporting buyers with an unmatched experience: Stages 0 to 5
Shaping a buyer's journey first starts with a business understanding who their ideal buyer is. This requires purposeful experimentation, strategically-applied insights, and organizational clarity and alignment on how best to support buyers. Businesses capable of delivering an unmatched experience understand their buyers' needs and the changing market and know how to put the systems and processes in place to consistently support a remarkable experience.
The following six stages demonstrate how a company moves through this progression.


Stage 0: Founding – Unscripted
Founders often start their businesses with an idea about who their ideal buyers might be. But in the company's earliest days, this is simply a hypothesis because the offering has not yet made contact with the market or hasn't been in the market long enough to identify a clear market fit.
It's too early to map a buyer's journey because there's no defined buyer profile to design an experience around. Before considering the buyer's journey, the business must first clarify its go-to-market focus and key messages and develop a clear value proposition for its products or services.
How to mature to the next stage: Remind yourself of your founding vision: What problem did you set out to solve, and who are you trying to solve it for? As your product or service reaches the market, put feedback loops in place to understand what's resonating and what's not. Use these inputs to begin to identify emerging themes about your ideal buyer. Re-evaluate whether these themes match who you initially set out to target.
What you'll need: A document (like a simple business plan) that brings your founding vision together and that you can easily reference and reflect on to ask, "Are my assumptions still true?" "What's changed?" "Am I still operating from the same vision, or is my 'north star' moving in a different direction?" Add notes and update your plan based on what you learn in your early-stage conversations.


Stage 1: Formative – Reactive
Businesses that reach stage one have had some traction with early-stage buyers and are bringing in some revenue. But they're still trying to find their footing and go-to-market focus. At this stage, businesses are reacting to new opportunities rather than pursuing a defined buyer — which is good because they still have a lot to learn.
In fact, this is an experimentation phase that serves as a litmus test for founders or owners to test their original vision on various types of buyers. It's often when many founders discover that their offering may play better in a space different than what they initially thought.
Experimentation is good and necessary at this stage, but it has to be purposeful. Companies that stay reactive too long get watered down and find themselves trying to be all things to all people instead of following a clear "north star" aligned with the founder's vision.
How to mature to the next stage: Learn from experimentation and start to define a focus. At this stage, qualitative analysis is usually more helpful than quantitative. You probably don't have a large enough buyer base to analyze a ton of data, nor enough data over enough time to draw definite conclusions about the right-fit buyer. But you should have a good sense of where your solution(s) are sticking, why, and with whom.
Now is also the time to revisit your original business plan and vision and consider whether it needs to change based on your learnings. For example, you may have expected to sell your offering to large enterprises but discovered that small businesses have a greater need and are faster to purchase.
What you'll need: A qualitative analysis of what's working well and what's not working well with your early customers and an updated business plan incorporating what you've learned. Gather internal and external feedback to answer these questions:
Which buyers value you the most?
Which are willing to pay the most based on that value?
Which buyers are the most engaged?
Which are the easiest to work with?
Strategic marketing advisors are helpful at this stage to offer an objective perspective on what's working, what you still need to test, and how to move closer to a narrower focus.


Stage 2: Functional – Inconsistent
At this stage, the organization is functioning and has a critical mass of buyers, but the customer experience is inconsistent, and most touchpoints are manual. Dedicated sales and customer support employees are likely in place to support buyers. But the company as a whole probably doesn't have consistent processes or standards for managing each stage of the buyer's journey. It's normal for processes to continue to change at this stage, but it's important to document current ones.
The business is young and learning, and the team revises aspects of the buyer journey with every new input, emphasizing the early stages of the buyer's journey where they create demand and acquire new customers. In future stages it will become more important to consider how to nurture buyers beyond the point of sale.
How to mature to the next stage: It's critical at this stage to get information out of the minds of your employees into company-owned documents and systems. That way, when employee roles change (and they will), your business doesn't lose key knowledge or drop the ball on your customer relationships, and you have a baseline for training incoming team members.
Document and centralize your processes — how you do what you do. Most likely, some of the most important processes you document will be in support of the buyer journey. For instance, how to sell to a new customer and onboard them to your solution.
Now's also a great time to implement and adopt a business operating system, like EOS®, that includes frameworks for process documentation, role clarity, accountability, and alignment in the organization.
What you'll need: A business operating system, a central repository for storing your process documents where all employees can easily access them, and organizational alignment on everyone's role in the buyer's journey.
Working with an external process expert who understands entrepreneurial growth (like an EOS Implementer®) is also beneficial to help your team move through the process efficiently without getting lost in the weeds. An experienced marketing leader can work alongside this process expert to strategize how the business can engage buyers beyond the point of sale.


Stage 3: Focused – Intentional
When a business arrives at this stage, they've gone through enough evolution that different processes, tasks, and systems have stacked onto one another, creating a lot of manual tasks and inefficiencies. People are doing things the way they always have without questioning whether it's the right or most valuable or helpful way.
At this stage, businesses shift from documenting "how things are done" to designing "how they should be done." To do this effectively, companies must challenge their assumptions and take a fresh look at what their buyers want and need from them so that they can design a brand experience around that.
How to mature to the next stage: This is the time to question everything about your current buyer journey and use what you learn to redesign how your business interacts with your buyers. Ask yourself the following questions about your customers:
What do they really value about their experience with your business?
What do they wish you offered or provided?
Why did they choose you?
Do they really understand your value proposition or your full scope of solutions?
Are they confused about how to engage with your business, or who their primary connection is?
To create a consistent and repeatable buyer experience, you will also need the right systems and touchpoints in place. Consider how and where you need to streamline disconnected platforms and how you could leverage tools like sales and marketing automation platforms to provide a high-touch, low-friction experience. Focus on creating operational efficiencies through strong technology integrations.
What you'll need: Curiosity to gather inputs from the stakeholders whose voices matter, insights to guide how you reshape your organization's interactions with your buyers, the right technology platforms to enable the integrations and automation your business and relationships require (e.g., sales and marketing automation, financial technology, internal project management and operations tools), thoughtful brand guidance and content that delivers the right message at the right moment in the buyer's journey, and the right internal or external experts to help you implement, manage, and continue innovating.
If you don't already have a strategic marketing leader, now is a time to consider how to add that expertise to your organization. A fractional CMO is a strong fit for businesses that know they need strategic marketing direction and guidance but aren't sure which resources to hire to support the buyer's journey most effectively.


Stage 4: Forward – Full Lifecycle
At this stage, businesses must shift from focusing primarily on sales and new customer acquisition to retention. (After all, winning a new buyer is far more expensive than keeping a current buyer engaged.) This shift requires a change from a demand mentality to an advocacy and retention mentality: what can the business do to keep its customers happy and supported and turn them into raving fans?
Businesses that retain buyers, provide a high-quality experience at every point of the journey, and turn those happy buyers into brand advocates create the healthy and sustainable growth that launches them into the flywheel phase.
How to mature to the next stage: Start to focus on existing buyers and develop strategies to nurture them. If you haven't already, put a process in place to capture customer feedback regularly. For example, track your NPS score or gather customer reviews, case studies, testimonials, or references. Infuse these customer inputs into your marketing assets and campaigns to promote the buyer's experience through the buyer's voice.
Ensure you have a marketing leader who understands marketing's role across the entire customer lifecycle and knows how to nurture all of the key relationships (e.g., employees) that impact how strong of an experience your business can deliver. This leader can also help you ensure your go-to-market strategy includes programs and investments that support brand, demand, and retention. Look closely at your budget to make sure you're not over-invested in new business and under-invested in serving and supporting your existing buyers.
Continue to seek inputs from your stakeholders, and be intentional about shaping your buyer journey beyond the point of the initial sale. You may need to restructure your employee teams and incentives to ensure your employees provide high-quality service and proper attention to existing customers.
What you'll need: A marketing leader to guide a retention and advocacy strategy and who understands all of the key relationships that impact the buyer's journey, employees dedicated to customer success, and proof points that demonstrate you deliver a strong buyer experience.


Stage 5: Flywheel – Unmatched Experience
When a business reaches the coveted flywheel stage, the brand has received enough public praise for its customer experience that it's the most highly trusted organization in the market segment. Brands that reach this stage stand out from their competition because they deliver a high-quality experience and add significant value; they're well beyond becoming commoditized in the competitor set.
How to continue maturing: Don't take for granted that you've created value. Keep innovating and listen to your buyers, the market, and your employees to understand how their needs are changing. If you get satisfied and complacent with achieving high-value status, you can lose it pretty quickly when new, innovative competitors enter the market.
What you'll need: Feedback loops to stay connected with all of your key audiences and a strong marketing leader who can help you continuously evaluate the market and identify new opportunities for growth and innovation.
Delivering an unmatched experience requires strategic leadership
Delivering an unmatched brand experience requires thoughtful experimentation, strategically-applied learnings, and a deep understanding of your buyer and the experience they expect. We created the Authentic Growth™ Marketing Maturity Matrix to show how Authentic helps companies learn from their unscripted engagements to eventually deliver an unmatched experience.
Our fractional CMOs work alongside and inside our client organizations to help them stay ahead of the curve on brand experience — staying in tune with buyers and recognizing key moments in business growth when they need to rethink and redesign the experience. Let's connect if you're ready to better understand what your buyer needs and expects and to design an experience that will turn them from customer to loyal advocate.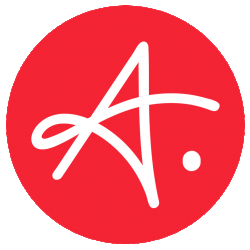 Latest posts by Authentic
(see all)